Little Jiffy slab rollers contact us: littlejiffy@yahoo.com

are table top models. They are much less expensive than commercial models, and though they are not quite as powerful, they work GREAT!

YOUTUBE BY Little Jiffy user
Every Little Jiffy slab roller is handcrafted and is 100% guaranteed--we want you to love it as much as we do.

Little Jiffy has Oak Wood rails and comes with shims and two stitched edge canvases.
The inside dimensions of the larger is 16"x28", it sells for $95.00
For slabs from 5/8 inch thick down to 1/4 inch. Shipping and
handling is $45.00 by USPS inside the continental U.S.
I will be at a conference 2nd and 3rd week in October
so I won't be able to ship until last week in October, First
week in November. I ship orders first in first out, so if
you are in a hurry get your order in as soon as possible.
The inside dimensions of the smaller one, Little Jiffy Mini, at 10"x18", is great for jewelry, sprigging, coffee cups, small sculptures, and other smaller projects. It also rolls slabs from 5/8" down to 1/8." The Little Jiffy Mini sells for $75.00. Shipping is $45.00 by USPS.

To order Little Jiffy by check or money order or get more information, email littlejiffy@yahoo.com .
Pottery Leaf Basket created on Little Jiffy

If you would like to post a picture of an item you created on Little Jiffy, or if you are a handbuilder and would like to link with this website email me.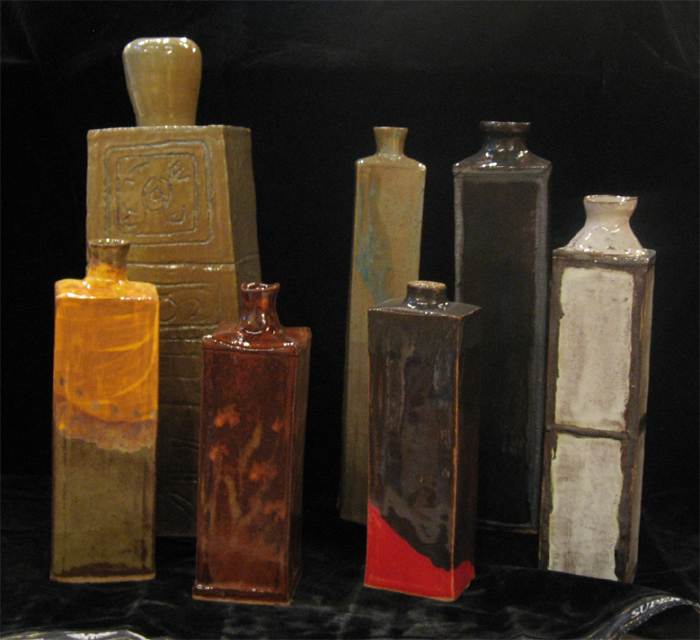 These gorgeous jars where made on Little Jiffy by Don and Jane Anderson.





Click the link to see more of Paul Rothstein's succulent and cactus pots made on Little Jiffy slab roller.